JanusHR: Providing the Best PEO Services to Businesses in Tampa & Across Florida
JanusHR is a professional employer organization (PEO) that is committed to providing s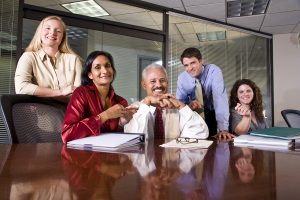 mall and medium-sized businesses with the best PEO services to meet their needs. Based in the Tampa Bay area, JanusHR will provide you with the comprehensive services you require, allowing you to focus on making your business as successful as it can be. As we like to say, "We Solve HR."
Our History
JanusHR takes its name from the ancient Roman god of beginnings, transitions, and choices, the patron of portals, gates, and doors. Classically depicted as having two faces – one looking to the future and the other to the past – Janus was said to preside over time and remain ever-vigilant of the changing tides.
In the spirit of our namesake, JanusHR is always looking out for our clients — helping them navigate the twists and turns of business management and making sure their employees have the support they need. We aim to provide our clients with the best human resources partnership by improving on their previous experiences and providing a new beginning for a prosperous future.
Our Services
With JanusHR as your PEO, you'll be relieved of many of the tasks and responsibilities of being an employer, allowing you to focus on your core business. Some of the services we can provide include:
In addition to providing the best PEO services for your unique business, JanusHR also offers customized business coaching, which is something most PEOs are not able to offer.  Our executives' extensive experience helps Janus better serve your business, whether you require assistance opening up new locations, navigating a merger, or simply growing your business.
If you would like more information on JanusHR or the personalized PEO and business coaching services we can provide for your company, contact us today. We are based in the Tampa Bay area but proudly serve the entire state of Florida and will be glad to provide you with the best PEO services to meet your company's needs.