JanusHR Is Here to Assist You During the COVID-19 Pandemic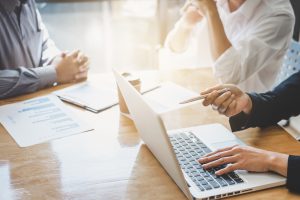 Throughout the unprecedented COVID-19 pandemic that our nation faces, more than ever, JanusHR is committed to putting our clients first. We realize that the many changes brought about by this pandemic are affecting our clients in a number of ways. Many businesses have had to significantly downsize their workforce while others, sadly, have had to close their doors altogether. Those who are lucky enough to still be employed are either working from home or observing social distancing guidelines in the workplace. With schools closed, many parents find themselves working from home while trying to care for their children at the same time.
At JanusHR, our number one priority is to ensure the health and safety of those we serve. We're also committed to helping our clients navigate the complex federal, state, and local regulations that have been implemented. Below are some of the ways that we are helping our clients stay in full compliance during these trying times.
Human Resources
Opening the country back up and returning to work is a delicate process that requires informed judgment and careful decision making. JanusHR can assist with managing your employees while they work from home as well as helping them transition safely back to the workplace when the time is right. Our human resources professionals are also available to answer any questions you may have, such as:
What happens if one of my employees gets sick?
How can I make sure I'm complying with HIPAA regulations?
What if schools and daycares stay closed all summer?
Payroll Services
Many households have been forced to take pay cuts, and so, ensuring that your employees get paid accurately and on time is more important than ever. Our payroll team can help you understand and navigate the nuances of the Coronavirus Aid, Relief, and Economic Security (CARES) Act, as well as the Families First Coronavirus Response Act (FFCRA), which includes components such as Emergency, Paid Sick Leave and Emergency FMLA, tax credits, employee retention credits, and more.
Risk Management
JanusHR can help your business identify, assess, and manage potential workplace risk associated with COVID-19. We can also provide guidance for complying with Occupational Safety and Health Administration (OSHA) regulations to ensure a safe workplace for your employees to return to.
We're Here to Help
If you have any questions or concerns about how the COVID-19 pandemic has affected or will affect your company's payroll services, human resources, risk management, or any other aspects of your business, contact JanusHR today.