Tampa-Based Professional Employer Organization (PEO) Providing Comprehensive HR Services for Small & Medium-Sized Businesses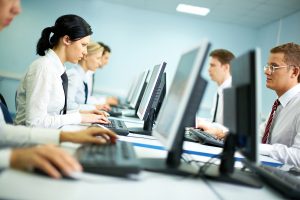 When you first opened your business, you probably didn't expect to be spending so much time and energy managing your employees' HR-related issues. But, like many business owners, a good chunk of your time is probably spent juggling these tasks instead of focusing on growing your company's bottom line. If you struggle to manage the complex human resource aspects of your business, JanusHR can provide you with a lasting solution. As a Tampa-based professional employer organization offering comprehensive PEO services to small and medium-sized businesses throughout Florida and beyond, JanusHR can relieve you of the many non-revenue-producing tasks associated with running a business so you can be more involved in your company's day-to-day operations.
Payroll Processing
Our experienced team can provide a solution that will ensure your payroll processing is accurate and on time. Moreover, our convenient online program offers clients the flexibility they need regarding:
Federal, State, and Local Tax Reporting
Job Costing
Customized Reports
W-2 Filing
Human Resources
Many business owners find it challenging to keep abreast of the ever-evolving regulations and requirements that come with managing employees. As a professional employer organization, we are well-versed in such regulations and can provide you with a lasting HR solution that includes:
Customized Employee Handbooks
Federal, State, and Local Compliance
Administrative Support for New Hires
I-9 Compliance
Social Security Number Verification
EEO Consulting
Employment Practices Liability Insurance
Employment Forms and Posters
ACA Tracking and Reporting
Employee Training, Development, and Performance Management
SPHR-Certified Professionals
Employee Relations Consultations
Unemployment Claims Administration
Interviewing, Hiring, and Disciplinary Processes
Workers' Compensation & Risk Management
Providing a safe and supportive work environment is vital to employee productivity. Our claims management and loss prevention experts can help you reduce claim frequency and costs by offering:
Preparation of Certificates of Insurance
Claims Management and Reporting
Claims Investigation Process
Return-to-Work Programs
OSHA Form 300 Logs Administration
OSHA Assistance
Benefits Administration
Offering a robust benefits package not only keeps your current employees happy, but it can also help your company attract more desirable applicants. We offer full employee benefits, including:
Life Insurance
Dental Insurance
Vision Insurance
401k Retirement Plans
Family and Medical Leave Act (FMLA) Processing
Get Started Today
To learn more about the advantages of partnering with a professional employer organization, or for more information about the comprehensive PEO services that we offer to our clients, contact JanusHR today. We are based in the Tampa Bay area and serve local and national small and medium-sized businesses.