Human Resource Management for Small & Medium-Sized Businesses in Tampa & Throughout Florida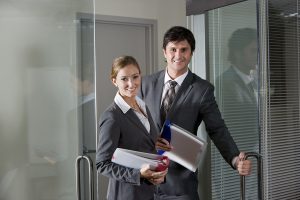 Managing a business and managing a workforce are two very different things. While both tasks are vital to a business's ability to succeed, each requires its own unique approach and execution. As business owners strive to keep their eyes on the big picture, it often becomes difficult for them to keep up with the diverse and ever-changing details of workplace regulations and requirements. Partnering with a PEO can help solve many of these challenges. JanusHR is a Tampa-based PEO serving small and medium-sized businesses throughout Florida and beyond. If you're looking for a solution to your HR quandaries, we can provide strategic human resource management services that are tailored to meet your business's needs.
We Solve HR
Some of the areas of human resource management in which we specialize include:
Federal, State, and Local Compliance
Businesses are regulated by a combination of federal, state, and local laws and ordinances, including everything from I-9 compliance and health and safety standards to privacy laws and environmental regulations. It is often difficult for employers to keep up with these complex and ever-changing regulations, especially in today's increasingly globalized business world. As your PEO, JanusHR will always stay up to date with the latest federal, state, and local regulations and requirements, so you can focus your time and energy on day-to-day tasks and rest assured knowing your business is fully compliant.
ACA Tracking and Reporting
The implementation of the Affordable Care Act (ACA) has presented business owners with significant challenges, especially in small and medium-sized businesses where employers have a personal rapport with their employees. While many such business owners wish to provide their employees with quality health care plans and adequate coverage, they often find themselves facing a tangled web of IRS regulations that, if not properly complied with, can result in hefty fines. The human resources experts at JanusHR can provide accurate ACA tracking and reporting to ensure that your business is in full compliance with all ACA requirements.
Hiring, Training & Development
JanusHR can lend valuable support and guidance throughout the interviewing, hiring, training, and disciplinary processes, as well as provide administrative support for new hires to ensure they have all the tools and information they need to succeed in the workplace. We also offer valuable business coaching that can include a thorough assessment of your staffing, and job titles and descriptions, as well as the organizational design and structure of your business. By maximizing the effectiveness of your workforce, JanusHR can promote business growth and help you achieve your unique goals and objectives.
Consultation Services
Our SPHR-certified human resource specialists can provide you with a variety of consultation services, such as employee relations consulting and unemployment claims administration. We can also advise you on affirmative action-related issues, ensuring that your business is in full compliance with equal employment opportunity (EEO) regulations, and we can assist with audits by the Office of Federal Contracts Compliance Programs (OFCCP).
Workplace Documentation
JanusHR can provide you with important workplace documentation such as customized employee handbooks, employment forms, and posters to ensure that your workers are well informed of their rights as well as what is expected of them from both an organizational and legal standpoint.
Get Started Today
To learn more about the comprehensive human resource management services that JanusHR can provide for your business, contact us today. We are based in the Tampa area but proudly serve small and medium-sized business throughout the state of Florida.