Benefits Administration for Restaurants & Hotels in the Tampa Bay Area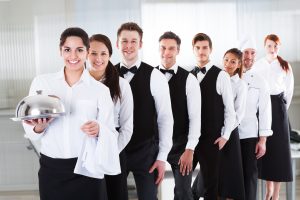 JanusHR is a full-service professional employee organization (PEO) that can provide you with the benefits administration and management services you need for your hotel or restaurant in the Tampa Bay Area. Whether you're looking to revamp your existing benefits program for your hotel staff or are just starting to decide on a benefits plan for your restaurant workers, you can rely on JanusHR for the dedicated support and expertise you need to succeed.
Our Benefits Administration Services
Most businesses that offer valuable benefits can attract top talent to their restaurant or hotel. The right benefits package can help with your recruiting and retention efforts while also letting your employees know you're taking care of them. But getting started or expanding your benefits offerings can be daunting. It requires figuring out how much to budget, finding the right providers to cover each benefit, and getting these benefits into the hands of your employees so they can make the most of them.
That's where JanusHR can help. Our SPHR-certified professionals are highly knowledgeable in the benefits administration process. Whether you plan to offer health insurance, dental and vision, and a retirement plan, or you're exploring more robust offerings like an employee assistance program or a flexible spending account (FSA), the professionals at JanusHR can help you get your restaurant or hotel up and running with the management services you need.
Contact Us to Learn More
Contact JanusHR today to learn more about our benefits administration and management services for restaurants and hotels. We proudly serve businesses in Tampa, Sarasota, and all nearby communities in Florida.