Human Resources Services for Restaurants and Hotels in Florida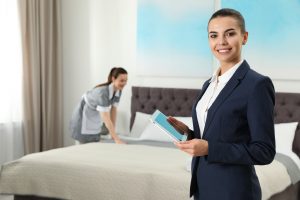 If you're busy running your restaurant or hotel in the greater Tampa Bay Area, the last thing on your mind may be managing your human resources department. However, human resources is essential to the success of any business. That's where JanusHR can help. We offer outsourced human resources services to restaurants and hotels throughout Tampa, Sarasota, and beyond. As a professional employer organization (PEO), JanusHR can handle everything from ACA to payroll so that you can focus on the day-to-day operations of your restaurant or hotel.
Offering a Range of Managed HR Services
When you choose JanusHR, you'll benefit from our extensive knowledge and expertise. Human resources covers a wide range of issues related to regulatory compliance, employee relations, and more. When you or an employee requires human resources, you want to know you can count on your PEO. At JanusHR, our SPHR-certified professionals can handle a wide range of services, including:
Managing the latest government regulations to ensure compliance
Providing employee handbooks, forms, and posters
Providing assistance recruiting and interviewing applicants
Offering training support for new hires
Tracking and reporting ACA information
Consulting on EEO
Managing unemployment claims
Providing administrative support for employees
If you're interested in learning more about the human resources services we can provide for your hotel or restaurant, contact JanusHR today. We proudly serve businesses in Tampa, Sarasota, and all nearby areas of Florida.