Outsourced Human Resources for Marketing Agencies in Tampa & Sarasota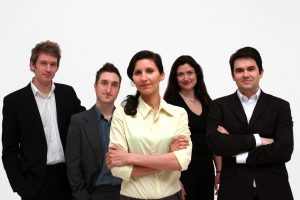 JanusHR is your source for outsourced human resources services in the greater Tampa Bay area. We proudly offer HR services for marketing agencies and similar companies throughout the region, and we will be happy to do the same for you. As a professional employer organization (PEO), we specialize in these services, ensuring you can focus on the core business functions of your marketing agency.
Why Choose Us for Your HR Needs?
Every business with employees needs human resources services to ensure compliance and smooth operations. Larger corporations may have entire departments dedicated to managing their HR functions, but this isn't necessarily a feasible option for a smaller or mid-sized marketing agency. By outsourcing your HR needs to a PEO, you'll enjoy all of the benefits of experienced HR professionals without the cost of an in-house HR department.
JanusHR offers the following human resources services for marketing agencies:
Establishing an employee handbook and guidelines
Ensuring compliance with the latest government regulations
Assisting with the recruiting and onboarding process for new hires
Consulting on EEO
Processing unemployment claims
Providing training and administrative support
Tracking and reporting on ACA
If human resources work feels like a totally different language, our PEO is here to help. With SHRM-certified professionals on hand ready to share their expertise, JanusHR offers all of the human resources services your marketing agency needs.
Contact JanusHR today to learn more about outsourcing your marketing agency's human resources to our PEO. We proudly serve companies in Tampa, Sarasota, and throughout the greater Tampa Bay area.